Sha

sha

mané

Experience
Tailor-Made Water Taxi and Tours
Experience the Authentic St Lucia Your Way!
Shashamané Experience is based in Marigot Bay. An historical landmark, having been the site of a number of battles between the French and British navies, the Bay was used as the setting for the 1967 film adaptation of Doctor Dolittle. The American novelist James A Michener famously described it as "the most beautiful bay in the Caribbean".
We offer water taxi and boat tour services between Rodney Bay, Marigot and Soufrière - tailor-made to suit your requirements for a truly authentic St Lucian experience! We can pick you up from your resort (if you are not based at Marigot Bay) or from your cruise ship in Castries harbour - and drop you off at the end of the day. Our trips can include one or a combination of the following activities – snorkeling amongst world-famous coral reefs (equipment can be provided); visiting beautiful beaches along the coast for swimming and sunbathing (some of which are inaccessible by land); fishing trips; beach barbeques; sunset cruises; climbing the Pitons; visiting Soufrière (founded by the French and the original capital of the island) for an authentic St Lucian lunch with spectacular views of the Pitons; visits to local attractions such as the only drive-in volcano in the world, mud-baths, water-falls and mineral-baths, as well as shopping trips to Castries market. We are fully licensed and insured.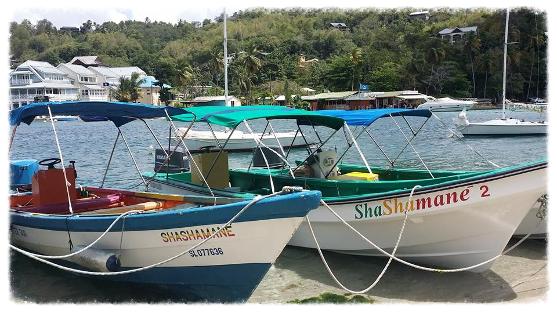 Captain: Romanus (Denver Sava) ALEXANDER
Marigot Bay
Castries
St Lucia
t | (001) 758-5192122